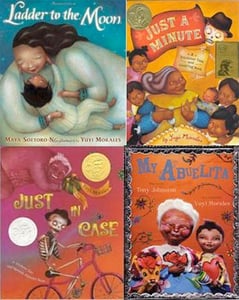 $

249.00
Do you have a picture book idea or manuscript that needs editing for word length, delicious language, consistency, and/or depth of content? Then let The Picture Book Whisperer help you wrangle your text so that it enchants a publisher enough to say, "We love this book and want to publish it!"
If you're an artist/illustrator who needs help making your art more lively, soulful, sweet or sassy and/or help with keeping characters consistent, or building a portfolio – then let The Picture Book Whisperer help you. Many of my students are now successfully published award-winning authors and illustrators selling hundreds of thousands of books.
During the initial 3 hr consult, we begin with you emailing me the manuscript, my close reading, editing, then re-editing, and then we "meet" via Skype and work together online.
For illustrators you'll email jpegs or pdf's of your work in advance (something you'll need to do professionally anyway) and a description of what help you'd like me to provide and then we meet via Skype.
Don't worry if you are unfamiliar with Skype – I'll teach you. If the full 3 hours are not used during the initial consultation, then the remainder is applied to a future consult. After the first consult you get to continue with me one-on-one as needed to brilliantly realize your picture book project or utilize my art directing/coaching services.
Contact me at miraguy@gmail.com or 916.483.4242 to arrange a time and means of communication (email, in-person, telephone or Skype and to set up a date), then purchase. This image is from one of my multi-award winning former students.